Why is Home-Tech in the air conditioning installation business? Because we want our Members to have the highest quality air conditioning systems for their homes. We want our customers to be cool, comfortable and happy. Our trusted Comfort Specialists have been AC installation specialists since 1981. Because we repair over 500 air conditioning units a week (all brands, makes and models) we know which brands and systems to recommend. Call us today to set up a free evaluation of your system or submit the Free System Evaluation form. 
Watch the videos below to learn more!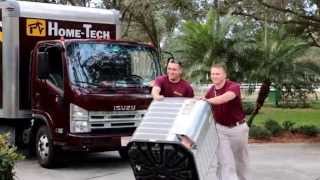 ► 3 Reasons to Replace Your AC System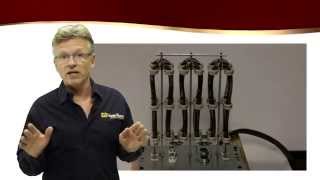 ► What, Which, Who to Use for AC Installation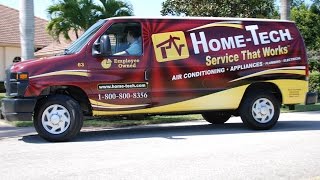 ► 18 Distinctions You can See and Feel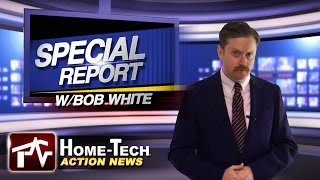 ► AC Clean & Check Live Report
► 3 Reasons to Replace Your AC System

Why replace your AC?

► What, Which, Who to Use for AC Installation

We answer 3 important questions.

► 18 Distinctions You can See and Feel

Home-Tech does a superior job in SW Florida installing AC systems. Here are 18 distinctions that set us apart.

► AC Clean & Check Live Report

Home-Tech news reporter, Bob White blows us away with the ins and outs of an air conditioning Clean and Check by Home-Tech.
Get A Free Evaluation
Give us a call – AC Hotline – (888) 851-7771
Fill out our Free System Evaluation Form
A Tech Rep will follow up with you by phone or email to set up a time to visit your home. To see the brands and equipment that Home-Tech offers check out our Air Conditioning Catalog which we publish for our customers each year.
Nate Certified AC Installers
We only use NATE-certified and licensed air conditioning installation teams. Lower your utility bills, save energy, reduce hot and cold spots, and improve your indoor air quality with a new system. And if you need air conditioning duct installation or modifications, we specialize in that as well.
AC Installation Leads to Comfort
We proudly sell the highest quality air conditioning units from industry leaders like Trane, Carrier, Bryant and Rheem. We routinely recommended HVAC systems like the Trane 20i and the Carrier Infinity. We also offer solutions like programmable thermostats, humidifiers and air cleaners. Variable-speed and two-stage technology is available. Financing offers are available for your AC installation.
Reviews of our AC Installation Jobs
"The work of your AC installation crew was done in a professional but friendly manner. We appreciated their willingness to work beyond their work day to ensure that we had AC for the evening. We rate their service and work as excellent." N. Galloway, Sanibel, FL
Just wanted to share this. In the past I had trouble with another company who came out to clean my a/c on the annual service contract. To make a long story short, when they came out my a/c was less than a year old, they sold me the a/c and installed the a/c. Their service guy came out and was reading from a prepared script telling me how bad my a/c was and how improperly it was installed, etc. I threw him out of my home, complained to the company and a supervisor came out and had a different script to read but told me the unit and install was no good and would cost more than the original price to bring it up to code, again I threw them out. A seasonal friend asked me to meet Tyler from Home-Tech at his house for the annual service. He came out did a thorough clean and check on an old a/c. He did his thing with no issues. I immediately contracted with Home-Tech for my home. Today Leo came out to my place. Leo was very knowledgeable and courteous, cleaned my unit (with no scripts). He told me how good my unit was running which is now 4 or 5 years old. I am very pleased with Home-Tech and just wanted to pass on my attaboy. Being active in my community, I will most assuredly recommend Home-Tech. Thank you!!!!!"
Richard U.
"A pleasure doing business with Home-Tech staff on the installation of my new Carrier Infinity system. Absolutely fabulous. I know I made the right decision going with Home-Tech." S. Lee, Sarasota, FL
"Your guys came up with and executed a plan and the install was absolutely gorgeous, which to me as an engineer shows me that the guys that did this had a lot pride in their work. It looked fabulous. I had three other bids and your bid was the best air conditioner for the best price. I think you should hire Home-Tech because they are professionals who do a great job." B. Zittlau, Fort Myers, FL
"We've had three air conditioners replaced with Home-Tech and they were fantastic to work with. Not only are their prices extremely competitive but also they were very accommodating. The install was flawless. It was quiet. We didn't even know they were here. They laid tarps so nothing was disturbed. There wasn't even any dust anywhere. Our house was in perfect shape when we came home." Christin Collins, Fort Myers, FL
A+ Rating By Better Business Bureau
You can read more reviews given to BBB or our Google reviews.  We welcome any reviews or comments you have for us.
Additional Helpful AC Information
Air Conditioning Duct System -Should You Replace It?
What to Know Before Hiring an AC Contractor
Which System is Best for Humidity Removal
Air Conditioning Replacement – What to Expect from Home-Tech
Selecting the Best Company for AC Sales and Service
Fight Allergies with Improved Air Quality
NATE Certified – What Does That Mean?
Unstoppable Trane Air Conditioners
Air Conditioning Sales Process Done Right
View Our AC Catalog